It's obvious that the Sanfermines are our best-known party. Every year, hundreds of thousands of domestic and foreign partyers crowd Pamplona for drinking and flaking. But within the out of control that it can mean to introduce you to that maelstrom of desmadre and alcohol, there are certain parameters that we have already gone a few times we can recommend to newbies
1- When to go? 
Let's see, San Fermin is always held between July 6th and 14th. That means that the 6th is the chupinazo, and the 7th the big day, the day of San Fermin. I personally advise avoiding weekends, as the influx of people is exaggerated and can become a bit overwhelming. I've also tried going sometime on the night from 5to 6 and, although there's already atmosphere, it's not until 6 in the morning that the good starts. (and don't wear your handkerchief before that time, which is foul-seen)
2- Accommodation
It is practically impossible to find accommodation in and around Pamplona for months before, so unless you have a family member or friend who stays in the Navarrese capital, you will have to sleep in a park or in the car (it is made by a lot of people) , so my advice is to look for a quiet area, away from the hustle and bustle of the center, and above all keep your belongings safe. Remember, hundreds of thousands of drunk people are a perfect claim for friends of the outsider, who also travel by the dozens to Pamplona. One of my favorite areas is the one next to the train station, because, apart from quiet and full of parks, it has a city bus to get to the center
3- Planning a day's partying sanferminera
In the Navarrese capital you can say that there is a party 24 hours a day during the holidays. In any case, during the lockdown (at 8 am) you could say that many bars are when they take the time to close and clean up a little the mess of the previous day. Anyway, since we no longer have 20 years to be from sun to sun, I will recommend a perfect planning to enjoy the cute without necessarily ending up waking up between a puddle of piss and another of pots.
21:00 – Cuesta Labrit. We didn't start pimping too soon. Remember: The sooner you start, the sooner you're going to finish, so 9 o'clock in the afternoon seems like a reasonable hour to start the work. And around the time of departure is when you start to animate that area, in which there are several bars with tents outside and with music on the street. EYE if you like nasal fuss, avoid going to powder the surroundings of the bullring, it's riddled with secret police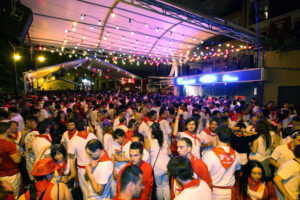 00:00 – Fireworks. It is not a party activity proper, but it is true that the fires of Pamplona are the best that can be seen any party in the country. And best of all, it's free
00:30 – Plaza de los Fueros. Within that gigantic gazebo is where the main musical programming of sanfermines takes place. There are free concerts every day, and the square is perfect for making a night's throwon on the lawn while enjoying the performance, as the stage is placed at the bottom. They also usually put a bar with popular prices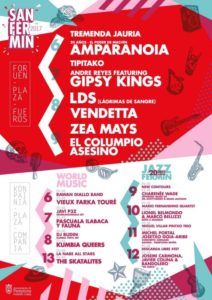 02:00 – Castle Square. In this square is where the verbena normally takes place. As you'll be pretty loaded from the previous step, order a pacharán in any of the surrounding bars, and throw four dances to the rhythm of Wizard of Oz or Ska-P
03:30 – Casco Viejo. Now is when you're going to dive into the San Fermin pure and hard. Pet-and-drinking streets of people from all over the world with a high blood alcohol level. Any place can be a bar. The next day you won't remember any name. So to boat soon come to mind the Nice and the Burgalés, although there are dozens of them. It's easy to get lost in the Old Town of Pamplona, and more at that time
06:00 – Casco Viejo. Watch, in the streets through which you will pass the lockdown begin to lay the fence and therefore to dislodge the bars. No problem, on the street next door you're going to find what you're looking for, and another thousands of bastards just like you
07:00 – Lockdown Tour . This one actually starts at 8:00. But whether you want to run it (which is not recommended for your state), or if you want to see it, you have to be able to make yourself to take room. You have to keep in mind that there are going to be many people waiting for this moment for hours, so it is very likely that it will be difficult to access the fence because of the crowding of people there. In fact there is a double fence for more security, and the first filter you will already have it on the outside, because with the drunkenness it is sometimes impossible to pass under the tables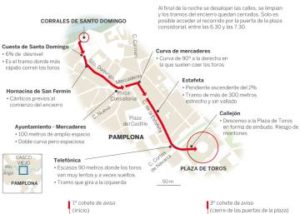 08:00 – Lockdown. If you've succeeded on the previous point, you're going to be able to witness something famous all over the world. If you haven't had it, you have the opportunity to access inside the bullring to witness the end. (Normally you have to buy a ticket). When he has concluded and the bulls disappear through the bulltile door, another show begins that rarely comes out on TV: the heifer-let-go. Seeing drunk guiris rammed by these animals is priceless. You can also cheer up and join the party by going down to the ring. Thousands of people will witness if anyone hits you with a wallow
09:00 Die – While normal people who have been up early to attend the lockdown head for breakfast, you'll wander around looking for a place to find your bones. To do this we return to the "accommodation" section a few lines above. Happy hangover